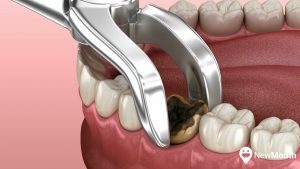 Saving your teeth is usually the best option, but sometimes teeth are no longer restorable. If you end up
needing a tooth extracted, don't fear, Calm Dentistry can help.
Some causes of needing a tooth extracted are:
-severe pain
-loose teeth due to bone loss (Periodontal Disease)
-fractured or cracked teeth
-cavities that are non-restorable
-infection/ swelling
-impacted wisdom teeth that will cause damage to surrounding structures
If you are suffering from any of these symptoms, you need to give our office a call as soon as possible.
We will fully evaluate your areas of concern and discuss your treatment options. We will also discuss if
your tooth needs to be replaced. Some missing tooth replacement options are bridges, implants, partial
dentures and complete dentures.
The idea of having a tooth taken out can be a little scary, but in reality, it isn't a difficult procedure to
have done. We will numb your mouth with topical gel and a local anesthetic to prevent any discomfort
during the procedure. This is the same numbing medication that you get for a filling and any other
routine dental procedure. After the tooth is out you will need to bite down on gauze with pressure. We
will review all of the post operative instructions with you so that you will be comfortable during the
healing process.
If you have any questions regarding the process of a tooth extraction please give our office a call at
470-474-2256
We offer teeth cleaning, veneers, root canal, cosmetic, restorative, pediatric, and much more types of dentistry! We serve Grayson, Snellville, Lilburn, Lawrenceville, Stone Mountain, Loganville GA, and many other cities in Georgia.