You've moved to a new town, or you've changed neighborhoods within a city, or you simply want to switch dentists. No matter the circumstance, you might be asking yourself, "How do I choose a dentist?" How do you make sure your new dentist is the right one?
Finding a dentist with whom you feel comfortable is important since dentists play a personal role in your health. It is crucial that you give yourself the time to do some research on medical professionals who might be better suited to your needs and personality.
The problem is that choosing the first dentist you see won't do when there are such high stakes involved. Instead, you should seek out someone with whom you can share a long-term level of comfort. Fortunately, there are different ways you can do to start your search, including reading online articles and reviews, recommendations from friends or physicians, regional indexes, and more.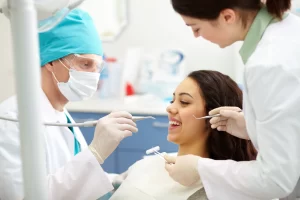 Once you narrowed down your list, time to ask questions – the right questions. When looking for a new dental clinic in Grayson, Snellville, Lawrenceville, or  neighborhood areas, you'll have plenty of choices, but how would you know which is the most reliable?
At Calm Dentistry, we value and encourage questions. In fact, we'll take as much time as is necessary to sit down and get to know you, our modern dental office, and the entire staff. 
To give you an idea of questions you could ask when finding a new dentist, we shared some below:
How long have you been in practice and why did you choose this profession?
Given that it has a direct bearing on the level of care you will receive, this is unquestionably the most crucial question on the list. 
Find out where the dentist received their education, how long they have been in practice overall and at their current location, if they have any professional certifications, if they participate in continuing education, if they specialize in any fields other than general dentistry, what kinds of technology they employ, and so on. 
Again, don't be afraid to ask questions; the right dental office will be more than happy to answer them.
Our dentist at Calm Dentistry has a strong commitment to ongoing education. Dr. Givan spent thousands of hours collectively advancing her dental knowledge. Our practice's culture has always been committed to staying at the forefront of our industry, and it manifests in the high caliber of treatment we give our patients.
What is your financial policy?
What their finance policy is should be one of your initial questions to your new dentist. It is crucial to comprehend your dentist's policies because doing so will make it simpler to understand how much various procedures would cost. 
It may be a good idea to visit a dentist office's website before using their services because dental offices frequently post their financial policies there. You should also talk to your dentist about whether their dental practice offers payment plans or not. 
Do you suggest a particular dental procedure?
What dental procedures do they suggest? is a question you might wish to ask a dentist if you've met a few and are trying to decide which one to visit.
When it comes to your teeth, one dentist might see something while another might not. It is significant to remember that some of the procedures won't ever be required, though they might be convenient to have. 
A good dentist will never pressure you into having a particular procedure done; instead, they will explain why they believe you might benefit from it and let you decide whether to have it done or not. 
Do you use any sedative or relaxation techniques to ease patients' fears?
Reducing stress and anxiety is important during dental visits. So, don't be afraid to ask this question to your dentist. 
The dependable staff at Calm Dentistry has years of experience working with nervous patients. Stress and confusion can be reduced when patients are given enough time to learn about their conditions and available treatments using HD color monitors and digital pictures. 
The outcomes of treatments are significantly improved, and treatment times are frequently shortened, thanks to ongoing investments in new technology. Additional methods include oral sedation, nitrous oxide sedation, and extra comfy chairs. For individuals who need more intensive sedation, we will assist in arranging the best office for your care.
How can we work together to make my dental health better?
At Calm Dentistry, we recognize that many patients might be reluctant to disclose details about their daily dental hygiene practices that are absolutely accurate. 
While flossing is better than nothing and many people do it immediately after and right before dental appointments to try to make up for lost time, we do hope that you know you can be honest with us. The more precise the data we have, the more successfully we can help you in enhancing your dental hygiene practice.
What foods are good for my teeth and bad for my teeth?
What foods are good and bad for your teeth is the last thing you should discuss with your dentist during your checkup. While it's generally accepted that the food we eat has an impact on our general health, you may not be aware that the same is true of your teeth.
In general, a diet high in protein, leafy greens, and whole fruits is beneficial for dental health, whereas foods that are acidic, sticky, and sugary can be detrimental. You can talk about what foods may or may not be harming your teeth and gums with your dentist.
Call us today for a consultation
It can be difficult to find the dentist who is the best fit for you or your family, especially if you don't know where to look. 
If you've recently relocated to a new town, asking your new neighbors and coworkers for recommendations can be a great place to start when looking for someone with a positive reputation among their peers. 
You can read helpful reviews from other patients by using an online search engine as a starting point. When you locate one that appeals to you, give them a call to schedule a consultation so you can stop by the office and get to know the staff.
Here at Calm Dentistry, we want to assist you in caring for your teeth more effectively. As a result, we're happy to share any information we have to enable you to take better care of your teeth. Therefore, feel free to express any worries or inquiries you may have to our dentist during your dental examination. 
We are one of the best dental offices in Stone Mountain GA and surrounding areas. You can find top-notch quality but affordable dental care here in our clinic. 
During your dental exam, we're also dedicated to your comfort and satisfaction and will do everything in our power to make you feel at ease. Call us right away to make an appointment. We are excited to meet you!